German Shepherd
Puppies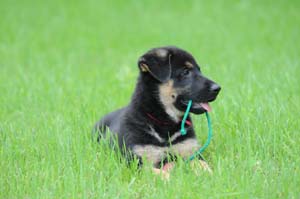 Our goal is to produce German Shepherd puppies with the perfect temperament. By this we mean superb bitework, top Schutzhund performances, extreme courage, yet safe around visitors and children. Sound in every way with great hip formation, extreme agility and the willingness to perform what ever task that may be asked of them. The German Shepherd puppies we produce are a great addition to a family or individual with a true admiration for what this beloved breed has to offer.
"...the maddest rascal, the wildest ruffian and an incorrigible provoker of strife." -Capt. Max von Stephanitz
Litter Announcement - German Shepherd Puppies born 6/25/2010
In Dogs We Trust LLC breeds German Shepherds on a very limited basis to ensure each puppy receives the proper amount of socialization, imprinting, and foundation. We breed
German Shepherds of the highest quality
, without hesitation we give a comprehensive two year hip and health guarantee on each of our puppies. By trade, we are
professional dog trainers
, we have personally handled and trained German Shepherds from around the world (Germany, Czech, and the United States). We have taken this experience and developed a breeding program to accommodate clients, families, and working level professionals with a dog that is functional, intelligent, trainable, and trustworthy.