About
Us
We are a privately owned and operated breeding / training kennel that specializes in working line
German Shepherd dogs
. Our home and kennel/facility is located in Hugo, Minnesota on 10 acres of pristine wood lands. We have a 3300 sq/ft climate controlled indoor kennel area, a 3600 sq. ft. training building, groomed walking trails, and a 8000 sq/ft fenced play area. This environment creates a peaceful retreat for dogs to run, play, and socialize within the safety of fenced and gated areas. The German Shepherds we breed and train have a generous amount of space to work and protect.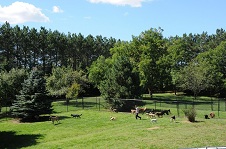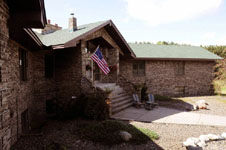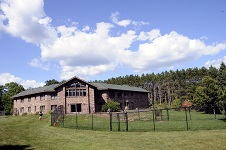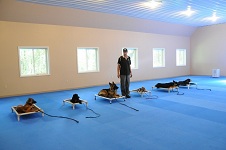 Josiah Neuman CMT, IACP-CDT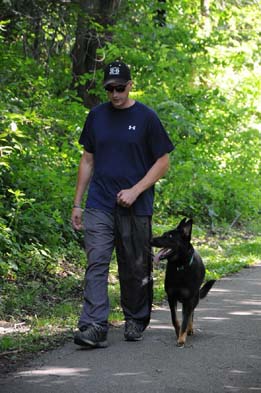 Josiah Neuman developed an avid interest in dog training in 2001 with his involvement in various protection sports (Protection Sport Association, K-9 Pro Sport, Chicago Iron Dog Triathlon, and the Iron Dog Association). Josiah received his certification as a Master Trainer (CMT) in May 2007 - His areas of expertise include Professional Obedience Training, Behavior Modification, and Protection Training; scoring 96% or greater in all areas of study. Josiah is a Certified Dog Trainer through the International Association of Canine professionals (IACP-CDT).
As a professional trainer, decoy, and coach for competitive protection sports - Josiah has assisted several teams that have gone on to compete and win on a national and international level.
In 2008 Josiah was part of a training team that prepared a dog for the Mondio Ring World Championships in Asti, Italy. This team placed 6th out of 33 teams world wide and ranked #1 for the USA.
In 2009 Josiah assisted another team that would go on to win the Mondio Ring National Championship in San Antonio Texas.
In October 2010 Josiah certified as a level 1 Mondio Ring decoy for the United States Mondio Ring Association.
In June 2012 Josiah certified as a level 2 Mondio Ring decoy for the United States Mondio Ring Association.
Josiah is member of the following dog training organizations:
Professional Level Member of the International Association of Canine Professionals (IACP #2889)
United Sates Mondio Ring Association (USMRA #258)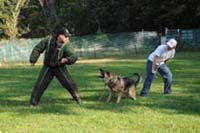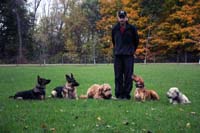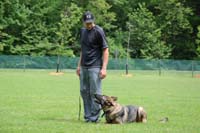 ---
Summer Duggan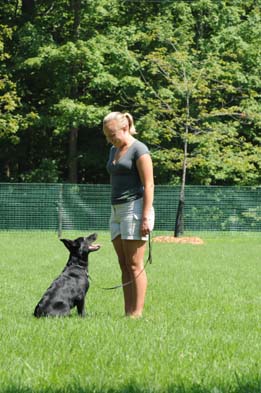 Summer Duggan has been an avid animal lover her entire life and has grown up with a very special connection to all creatures great and small. Some of her past experiences include, many years of horseback riding lesson in the classical style of Dressage and working at the San Francisco Zoo handling birds, mammals, reptiles, amphibians and marsupials while speaking to the public about animal education and habitat conservation. Summer has also volunteered extensively at several animal shelters and breed rescue organizations.
Some of the seminars and workshops Summer has attended include "New Perspectives on Canine Behavior, Emotion and Training" with Dr. Patricia McConnell and Steve White of i2i K9 held at the University of Minnesota and completion of the Three day Bedrock Training Method Course taught by Margo Woods of Applewoods Dog Training. In 2007 Summer was recognized by Pet Sitters International as an Accredited Pet Care Provider. In 2009 Summer was approved by the American Kennel Club as a Canine Good Citizen Evaluator.
As a professional dog trainer at Neuman K-9 Academy, Summer handles each and every dog enrolled in Basic Training and Boot Camp. She has assisted in the training of several hundred dogs, from basic to advanced obedience, pack socialization & management, personal protection, and behavioral modification. Summer has assisted in the training of dogs that have received recognition by the AKC Canine Good Citizen program and certified as Therapy Dogs and service dogs.
Summer has also played an integral part of the working German Shepherd Dog breeding program (In Dogs We Trust // Wir Vertrauen), providing extensive pedigree research, whelping and hand raising puppies, and producing dogs that are actively participating in a variety activities (Schutzhund, Mondio Ring, Agility, Dock Diving, Therapy Dogs, Competitive Obedience and Search & Rescue). Additionally Summer has handled and shown several German Shepherds to earn their national and international conformation championship titles through the International All Breed Canine Association. She has personally selected, trained, and handled dogs from this breeding program demonstrating her ability to responsibly breed, train, and develop superior German Shepherd Dogs with great working temperaments and excellent health.
Summer is member to The United Schutzhund Clubs of America, United States Mondio Ring Association, International Association of Canine Professionals and Association of Pet Dog Trainers.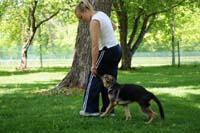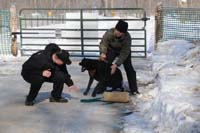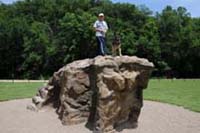 The name Wir Vertrauen stands for "We Trust" because we provide German Shepherd dogs trustworthy of protecting you or your family. IDWT was founded by Summer Duggan and Josiah Neuman, professional dog trainers for
Neuman K-9 Academy, Inc.
As trainers, we have personally handled and trained German Shepherds from around the world (Germany, Czech, and the U.S.). We have taken this experience and developed a breeding program to accommodate clients, families, and working level professionals with a dog that is functional, intelligent, trainable, and trustworthy.
What is the meaning of trust?
1. (n) Firm reliance on the integrity, ability, or character of a person or dog.
What to expect from Wir Vertrauen German Shepherds:
Dogs of
Integrity
- Vertrauen dogs can be relied upon because of our adherence to the code of what we value in a true working dog.
Dogs of
Ability
- Vertrauen dogs have the mental and physical ability to learn, think, and solve problems and over come challenges.
Dogs of
Character
- Vertauen dogs will fill your home with smiles and laughter and you will sleep better at night knowing your companion is there to protect your family.